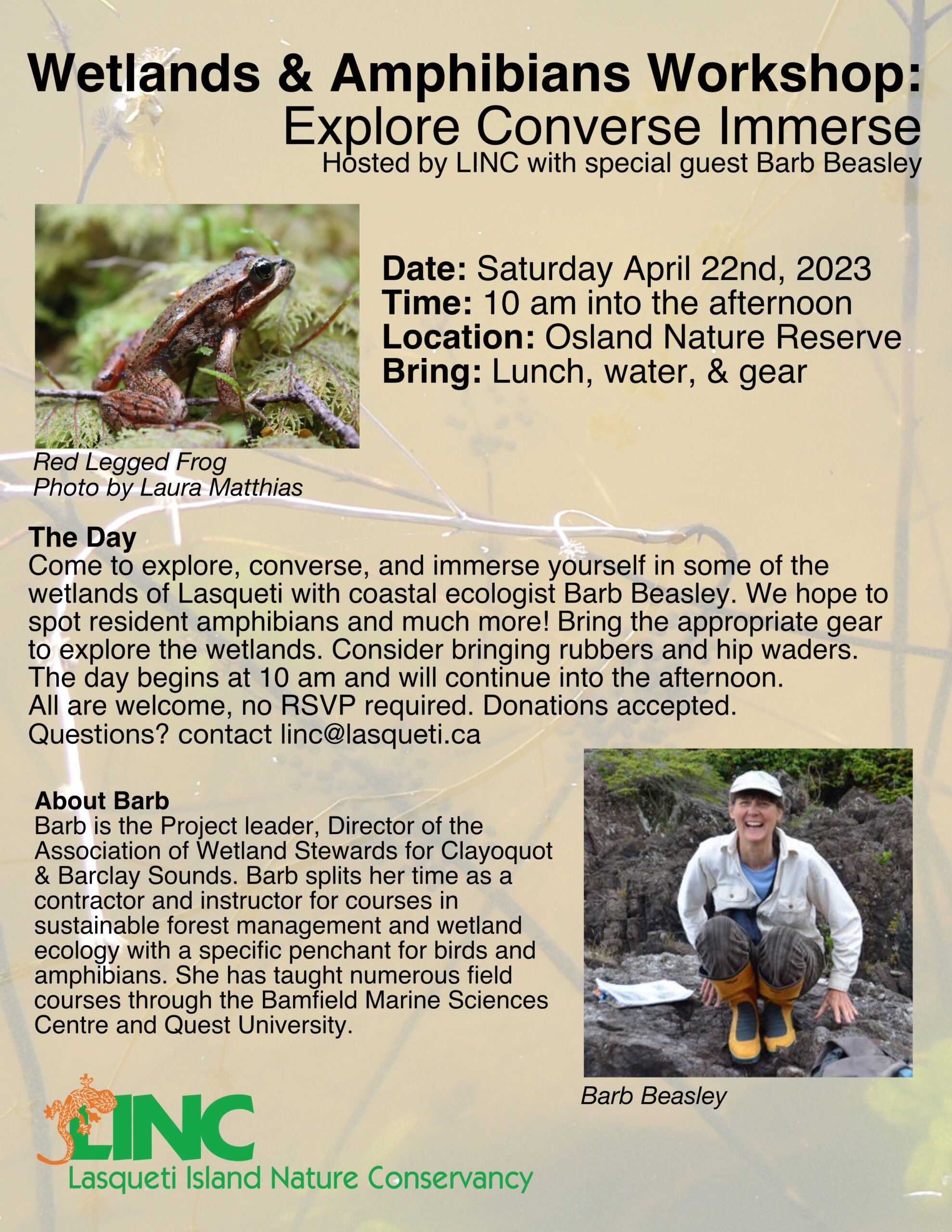 Upcoming Wetlands & Amphibians Workshop!
Wetlands & Amphibians Workshop: Explore Converse Immerse
Hosted by The Lasqueti Island Nature Conservancy with special guest Barb Beasley
Date: Saturday April 22nd, 2023
Time: 1pm into the afternoon
Location: Osland Nature Reserve
Bring: Lunch, water, & gear
The Day
Come to explore, converse, and immerse yourself in some of the wetlands of Lasqueti with coastal ecologist Barb Beasley. We hope to spot resident amphibians and much more! Bring the appropriate gear to explore the wetlands. Consider bringing rubbers and hip waders.
The day begins at 10 am and will continue into the afternoon.
All are welcome, no RSVP required. Donations accepted.
About Barb
Barb is the Project leader, Director of the Association of Wetland Stewards for Clayoquot & Barclay Sounds. Barb splits her time as a contractor and instructor for courses in sustainable forest management and wetland ecology with a specific penchant for birds and amphibians. She has taught numerous field courses through the Bamfield Marine Sciences Centre and Quest University.
Find out more about Barb and her projects here
We look forward to connecting with you at the wetlands!
Questions? Contact linc@lasqueti.ca or call: (250) 228-8970
—
Please note:
Due to adverse weather conditions forecasted we rescheduled the Wetlands & Amphibians Workshop: Explore Converse Immerse from Saturday February 25th to Saturday April 22nd
Thank you for your understanding.