Mount Trematon Nature Reserve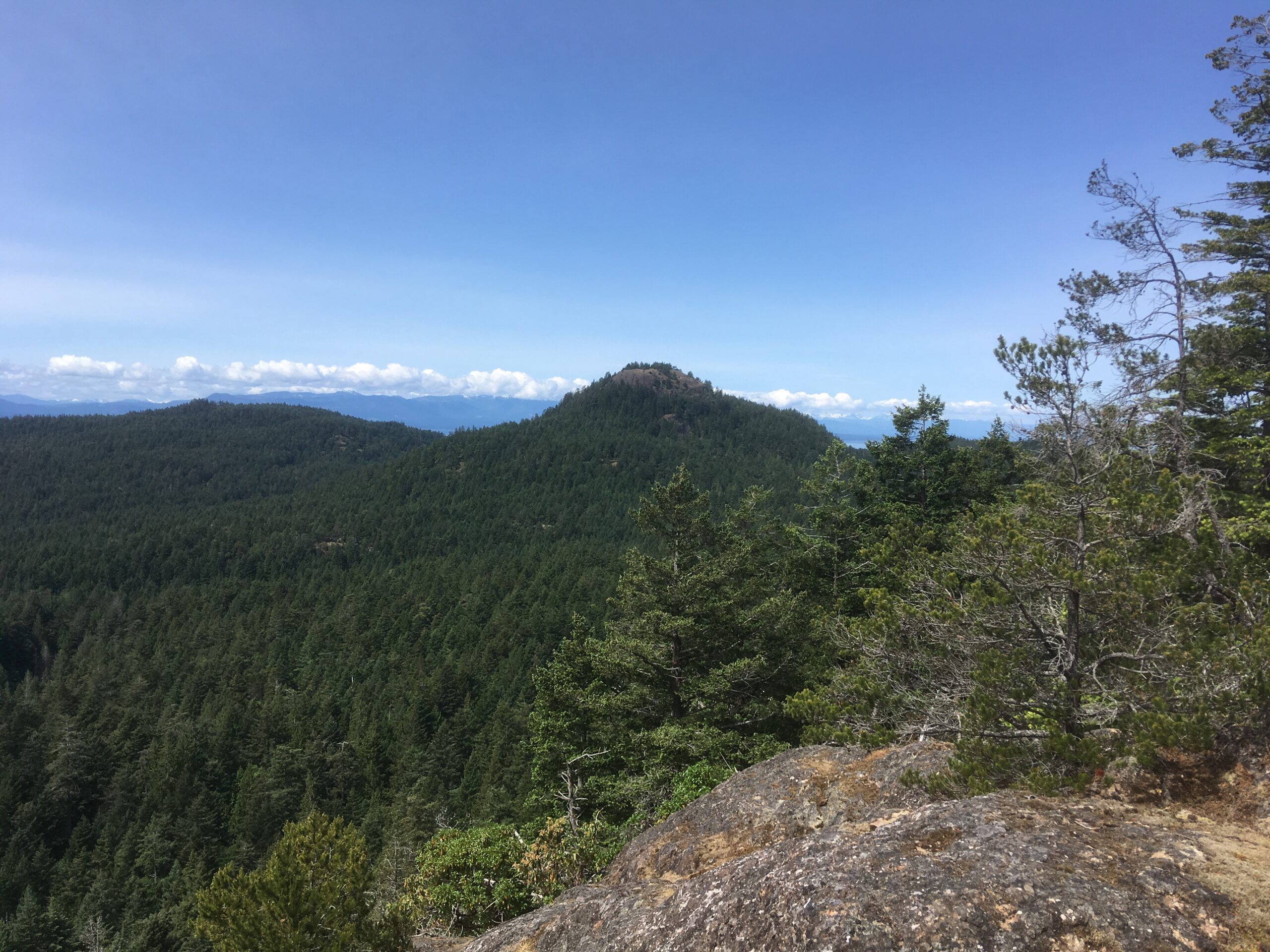 Mount Trematon is the highest point of land on Lasqueti Island, a dramatic geologic feature with its rounded plateau-like summit and steep cliffs on the north and east sides. Soaring 327 meters above Georgia Strait, Mount Trematon offers a birds-eye view of the Salish Sea, the Discovery Islands, Mt. Baker, Mt. Arrowsmith, the Sunshine Coast and mountains on the mainland. Majestic old-growth Douglas firs flank the side of the mountain and provide a natural wildlife corridor between the Lasqueti Island Ecological Reserve to the south and undeveloped Crown land to the north. Trematon Creek enters the Reserve on the western boundary and flows through a mature stand of older forest.
The Mount Trematon Nature Reserve was established in 2006 when the Gordon family purchased and then donated the 140-acre mountain to the Islands Trust Conservancy. Alasdair Gordon believed Mt. Trematon was the perfect place for peaceful contemplation, the kind one gets from the expansive view from the top of Mt. Trematon. In 2013 Lasqueti Island Nature Conservancy (LINC) and the Nanaimo and Area Land Trust (NALT) negotiated a conservation covenant over the Mt. Trematon Nature Reserve and began local management of the Reserve. In 2014 a safe trail was built to the top of the mountain beyond the entrance gate. Access to Mt. Trematon Nature Reserve is through private land. Visitors are asked to respect the privacy of these generous property owners. In 2021 a 5-year habitat restoration and research project was initiated to re-establish riparian shrub vegetation along Trematon Creek. The project will also study the effects of sheep and deer grazing on native understory and forbs.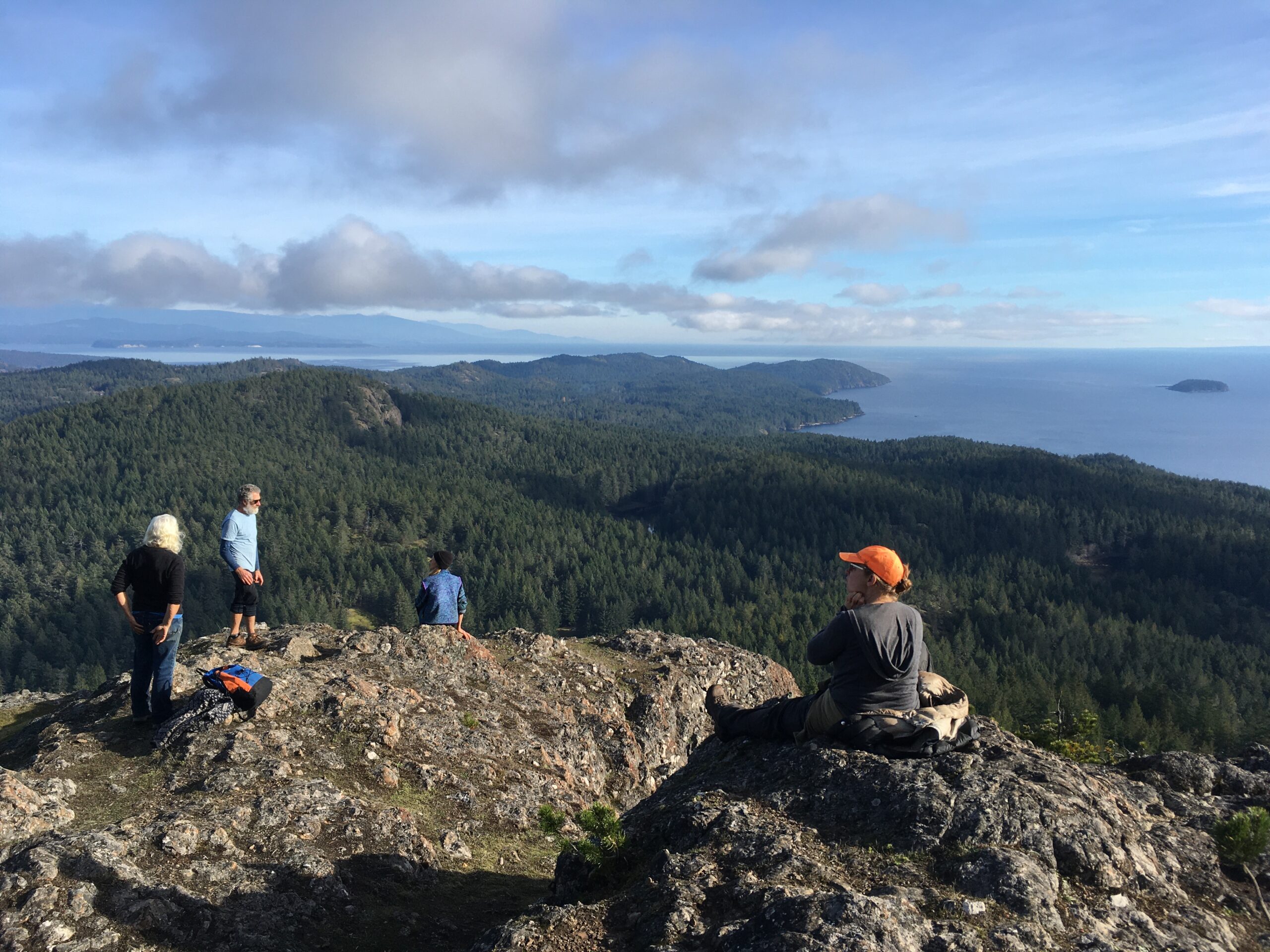 The property is physically rugged and steep, spanning an elevation range of over 200 m. It is generally forested, and has approximately 15 ha of original old-growth forest. The remainder of the property has been logged and approximately 10 ha remain deforested. The relatively undisturbed old growth Douglas-fir forest, is a red-listed ecological community. Hairy gumweed (Grindelia hirsutula var. hirsutula) is a red-listed plant species, and one of few recorded occurrences of this species in British Columbia is on Mt. Trematon. In addition, Trematon Creek and associated riparian areas includes elements of one red-listed and one blue-listed ecological community. These special features make the ecological value of Mt. Trematon important to everyone living around the Salish Sea.
The current name, Mt. Trematon, was penned by Captain G.H. Richards, RN, in 1860 after the old ruins of Trematon Castle in Cornwall, England where Richards was born and raised. Undoubtedly there are other Coast Salish names for this prominent landmark in the middle of the Salish Sea.