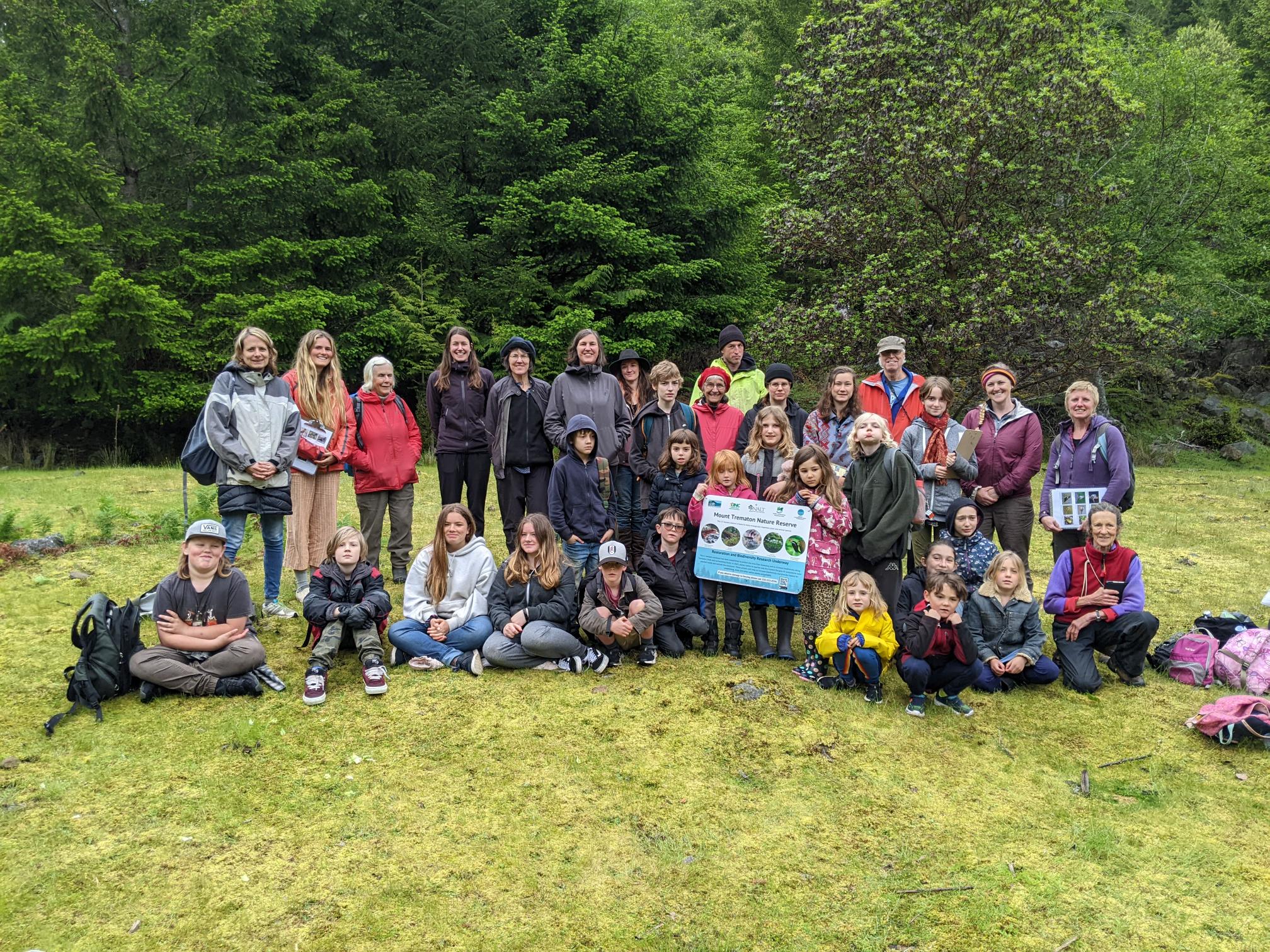 Bioblitz with False Bay School – Monday May 30th 2022
On May 30, twenty-eight False Bay School students, families, LINC Board, and community members gathered at Mt. Trematon Nature Reserve to participate in the first all-day Mt. Trematon Bioblitz. The event was organized by Cora Skaien, conservation biologist, Catriona Gordon, environmental educator, Jean Gordon, UVIC Ecological Restoration student, False Bay teachers Petra Knight and Amanda Jahnke and community experts including Jessica Slavik (medicinal plants), Sheila Ray (birds) and Sue Wheeler (butterflies). Other community environmental educators included Yves Parizeau and Kaia Bryce.
The focus of the day was ecosystem interconnections. We learned about the need for diverse habitats to support a wide range of species. Students learned about food webs — how a complex web of species with many connections among organisms makes for a resilient ecosystem. Bioblitzers also learned about recycling of nutrients in the food web – for example decomposers such as bacteria and fungi break down leaf litter, which in turn supports new plant growth and soil fauna.
The biggest hit with the kids was using "loupes" (otherwise known as hand lenses) to investigate soil invertebrates and the ways in which they have adapted to thrive and reproduce in their natural habitat. We learned how to identify cyanide millipedes (two sets of legs per segment) and that millipedes are vegetarian and eat decomposing plant matter on the forest floor. We also found thread centipedes (one set of legs per segment). We learned that these creatures are carnivorous and with loupes we examined the venomous claws they use to attack their insect prey.
Younger students created alder leaf and bark rubbings. They explored bark textures and became familiar with local tree species by their trunks—the scaly mottled bark of the alder and the distinctive lenticels (horizontal slits) of the bitter cherry. Older students learned that alder is a pioneer tree species that has a symbiotic relationship with Frankia bacteria. Alders share the sugars produced by photosynthesis with Frankia bacteria and the bacteria pass much-needed nitrogen to the roots of the alders. We discussed how alders produce rich leaf litter to fertilize the forest and that dead alder wood is a key part of slow-release addition of nutrients to the forest.
Sheila Ray had us all listening in silence for bird calls; by the end of the day many could identify the whinny of the robin and the cuk-cuk-cuk of the Pileated woodpecker. Sue Wheeler talked about the life cycle of the Western tiger swallowtail butterfly and prompted us to be on the look out from May to July for the riparian-loving species that are hosted by bitter cherry and willow. Jessica Slavik introduced Indigenous uses of native plants found on Trematon. We learned of the many medicinal benefits of nettles — and their value as a strong weaving fiber.
The day was a memorable hands-on opportunity to explore, investigate, share knowledge and get to know each other and our local flora and fauna on Mt. Trematon.