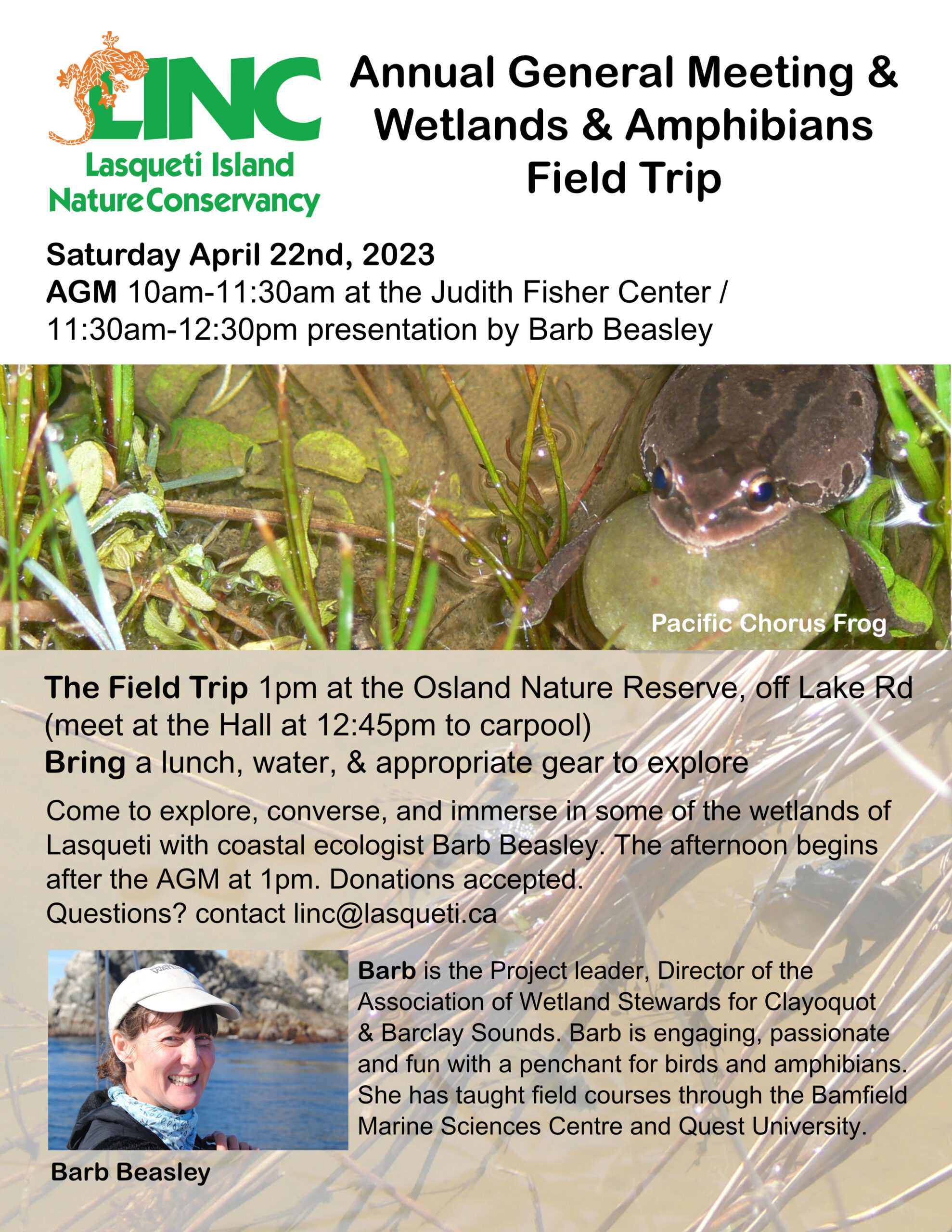 April 22nd – Annual General Meeting and Wetlands & Amphibians Field Trip

Annual General Meeting
Our AGM will take place on Saturday April 22nd (Earth Day!) from 10am-11:30am at the Judith Fisher Centre. Members who have renewed their membership for 2023-2024 are eligible to vote. If you would like to renew your membership ($10-$20) before the AGM you can send an etransfer to: linc@lasqueti.ca <mailto:linc@lasqueti.ca> or bring cash to the meeting.

Following the AGM will be a presentation at the JFC by field trip leader, Barb Beasley from 11:30am-12:30pm

Field Trip
We will meet at the Osland Nature Reserve (off Lake Road) at 1pm for the Wetlands & Amphibians Field Trip – meet at the Hall at 12:45pm to carpool there.

Come to explore, converse, and immerse yourself in some of the wetlands of Lasqueti with coastal ecologist Barb Beasley. We hope to learn about the resident amphibians, birds that are around, the beavers and much more! Bring gear to explore the wetlands if you like, such as rubbers or hip waders, plus a lunch and water. Donations for this field trip are appreciated.

Barb suggests that, "Amphibians are cryptic, enigmatic and curious creatures of study. They're fascinating – even if you're not a wildlife fanatic." Barb sees them as part of the tapestry of life – a form of nature-based art that enriches us. She believes it is important to model and share what we learn about species across landscapes. "Amphibians are indicators of health, and linked to other important values that we can learn about from them."

About Barb
Barb is the Project leader, Director of the Association of Wetland Stewards for Clayoquot & Barclay Sounds and SPLAT – Society for the Prevention of Little Amphibian Tragedies. Barb splits her time as a contractor and instructor for courses in sustainable forest management and wetland ecology with a specific penchant for birds and amphibians. She has taught numerous field courses through the Bamfield Marine Sciences Centre and Quest University. Find out more about Barb and her projects here <https://www.westcoastnest.org/stories/barb-beasley>
We look forward to connecting with you at the wetlands!


We have some scheduled activities for the upcoming year, mark your calendars!

June 3 and 4th LINC will host Kristen and James Miskally who operate Satinflower Native Plant Nursery in Saanich. In a workshop setting, they will help us understand the advantages to growing and nurturing the native plants around us.

June 22 LINC will present an Estate Planning Workshop right here at the Judith Fisher Centre

Questions? Contact linc@lasqueti.ca <mailto:linc@lasqueti.ca> or call: (250) 228-8970